If you are a pet lover, then the dog harness is the best investment for you as well as for your dog. The incredible benefits of the dog harness are that you can enjoy more while walking with your dog by using it, and it provides you safe, secure, and comfortable feeling. All of these features you get when the dog harness is appropriately fit on your dog neck. Therefore, when you are tightening the dog harness so it is very significant to know that how tight should a dog harness be?
When the dog harness is perfectly fit, so it provides you excellent experience for both you and your dog. So, keeping in mind all of your needs, here you get the detailed guide about choosing the best dog harness for dogs and how fitted a dog harness should be? Let's take a closer look at all of these steps and make your trip more enjoyable with your dog.
How to Check the Fit Size Harness for Dog?
When it comes to the dog harness's size, it is imperative to choose the harness that comes in the perfect size. There are many benefits to choosing the right size dog harness as it provides you safety, comfort, and general enjoyability.
If you choose a dog harness that is too big so your dog can slip free. On the other hand, if you choose a dog harness that is too tight, it can be a pain for your dog. Here you get the step-by-step guide about how you can measure the perfect size of a dog harness.
Step 1
Start to measure the size of the dog harness with the base of the dog's neck that known as neck girth.
Step 2
Secondly, measure the dog's belly grith so you can measure it from the front of your dog's back legs.
Step 3
To measure the perfect size for a dog harness, it is crucial to know the dog's body from right behind the front leg to just behind the back leg.
Step 4
When buying a dog harness, you get the size chart to compare your dog's size with the size chart and choose the perfect one.
Step 5
On the other hand, if you are not aware of your dog's neck size, you can take a thin towel wrap it around your dog. Therefore, you can measure the size of your dog's neck instantly and compare it with the dog harness.
Step 6
In the last step, once you thoroughly measure the dog harness's size, choose the stunning, beautiful, preferred dog harness style.
What are the Signs that Dog Harness Doesn't Fit Perfectly?
When your dog where the harness, if you notice chaffing around this area, it is a high chance to be a wrong fit.
Another sign is that if you are dog losing fur around where the dog harness is work, it is not ideally fit.
One of the most significant signs is that if your dog doesn't want to walk, it may be because the dog harness is loose.
Another reason for a loose dog harness is riding up the dog's neck when he walks or runs.
Choose a Perfect Size Harness by Breed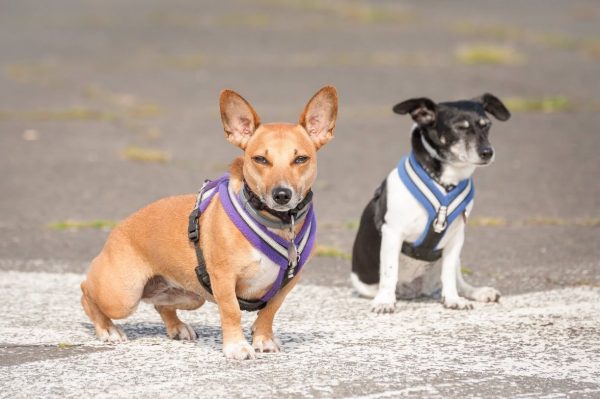 For choosing the best size dog harness, you need to measure the size of the dog's neck. On the other hand, it also varies depending upon the breed, so here you get some harness sizes that especially tend to work well with certain breed types. After knowing the detail mentioned below, you can quickly get the perfect idea about how tight should a dog harness be?
Dog Breeds that Fit Small Size Harness
The dog harness that comes with chest girth is 17 to 22 inches, and the weight of only 18 to 35 pounds is known as a small size harness. Breeds of dogs that well suited for small dog harness mentioned below.
Cavalier King Charles
Pekingese
Pug
Scottish Terrier
Miniature Schnauzer
Dog Breeds that Fit Medium Size Harness
When it comes to the medium size dog harness, it comes with 22 to 27 inches and its weight range of 30 to 50 pounds. Dog breeds that perfectly fit medium size dog harness are mentioned below.
Border Collie
French Bulldog
Beagle
English Bulldog
Boston Terrier
Dog Breeds that Fit Large Size Harness
The large dog harness comes with a chest girth of 27 to 32 inches and weighs more than 45 pounds. The breeds of the dog mentioned below perfectly fit the large dog harness size, and it proves to be comfortable and safe for these breeds.
Dalmatian
Labrador Retriever
Boxer
Weimaraner
Golden Retriever
Main Features of Dog Harness
Comes with Safe Design
Dog Harness with Easy-to-Use Style
Available at Reasonable Weight
Made of Rugged and Solid Materials
Dog Harness Comes with the Adjustable Belts
Advantages and Disadvantages of Dog Harness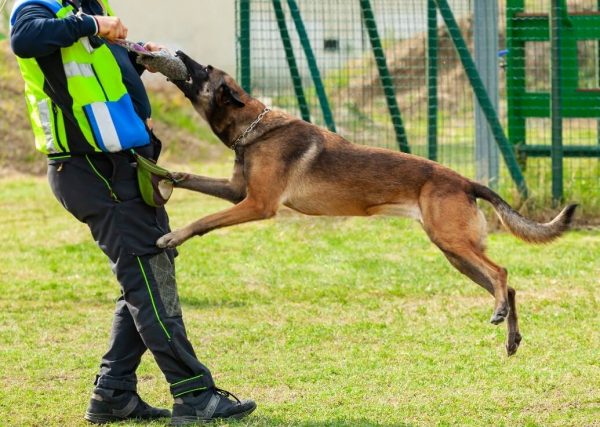 If you are thinking about buying a dog harness for your dog, it is imperative to know the benefits and downside.
Pros
You Get More Control on Your Dog
Get Additional Attachment and Pressure Points
You Feel Relaxed and Confident
Proves to Best Training Tool
Harness is Safer Than Collar
Reduce the Risk of Injury
Difficult for Dog to Escape
Not Offers Pressure on Dog's Neck
Cons
Some Dogs Don't Like Harness Initially
Sometimes May Longer to Put on Dog's Neck
Lightweight Harness Not Proves to be Best
Conclusion
Hope you are familiar with all the detailed guide mentioned above about how tight should a dog harness be? You need to ensure that the dog harness is not too tight or not too loose for your dog as it may be a cause of any issue. Also, above, you get the guide about the breeds of dogs with the perfect size.
In the end, we hope that this guide proves to be helpful and informative for you and all your concern about how tightening dog harness will go.